ROSEDALE
Taking a stroll through Rosedale through its winding roads fills with stately, broad trees that create a wealth of green space coupled with leafy avenues filled with heritage-listed redbrick mansions with manicured front lawns, it is no wonder Rosedale is such a sought-after neighbourhood.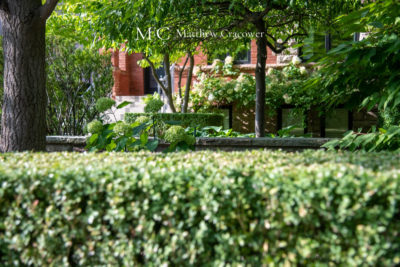 This coveted community is steeped in history and tradition from its architecture of the homes to the homeowners themselves.  Rosedale has held the distinction of Toronto's wealthiest neighbourhood since the late 1800s.  Being close to everything and having large lots lined with large trees and ravines, it is the only neighbourhood within city limits where you can find a sprawling mansion on a large plot of land where no noise from the city can be heard.  Some call it an oasis within the city.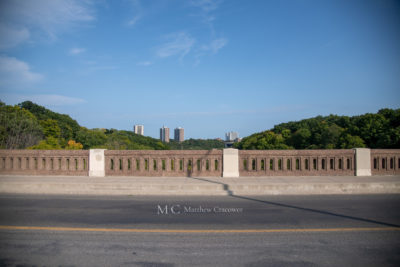 The boundaries of Rosedale consist of the CPR railway tracks to the North, Yonge Street to the west, Aylmer Avenue and Rosedale Valley Road to the South, and Bayview Avenue to the East.  The neighbourhood is divided into a North and South portion by the Park Drive Ravine.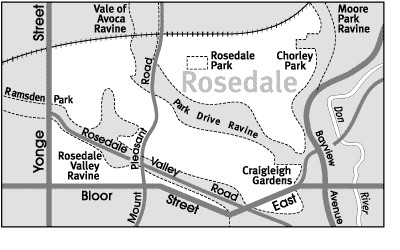 HISTORY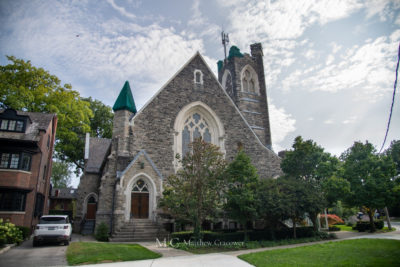 Rosedale was first settled by Sherrif William Botsford Jarvis and his wife, Mary.  She named the area Rosedale after the wild roses that grew plentiful in the area.  The estate was subdivided in 1864 when the Jarvis family sold the estate, allowing for residential development to begin soon after.  With its meandering streets and its luscious greenspace, it is no wonder why Rosedale quickly filled up with families who bought plots of land and began building their homes to lay their roots.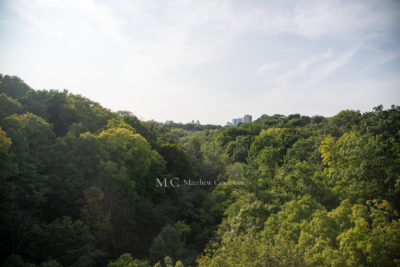 The construction of Glen Road bridge across the Park Drive Ravine marked the beginning of North Rosedale's development in 1909. North Rosedale's development was sporadic until it was mostly completed by the late 1920s and early 1930s.
Scottish Highland shareholders had already registered a plan of subdivision named Rosedale Park in 1884, which named many of the streets after the development's principles and prominent Ontario citizens.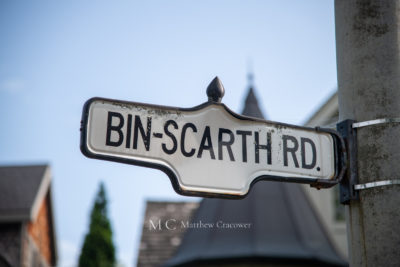 Rosedale was also home to Chorley Park, constructed between 1911 – 1915.  The house was designed by architect Francis R. Heakes and built in a French Renaissance Style, reminiscent of French chateaux in the Loire Valley.  This was one of the most expensive residences ever constructed in Canada.  However, during the Great Depression, Chorley Park was to be purchased by the Federal Government after Chorley Park would no longer be maintained by taxpayers.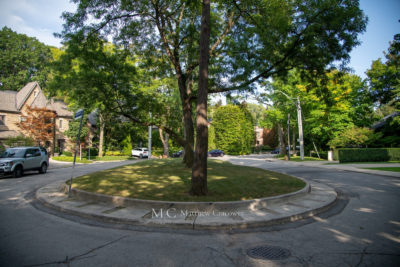 Various functions including as a military hospital during World War II, the headquarters of the Royal Canadian Mounted Police in Toronto, and residence for the refugees of the 1956 Hungarian uprising.  Under Mayor Nathan Philips, the city of Toronto bought Chorley House for $100,000 ($866,000 in today's dollars) in order to demolish it in order to create a municipal parkland.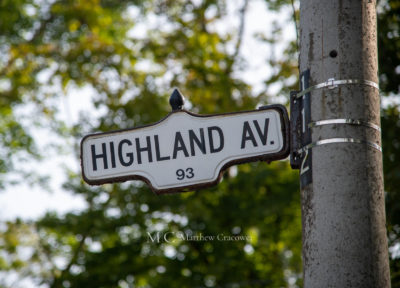 Rosedale was originally the home of the Toronto Argonauts from 1899 – 1925 and Rosedale Field is where the first official Grey Cup Tournament was held in 1909 with over 3,807 spectators.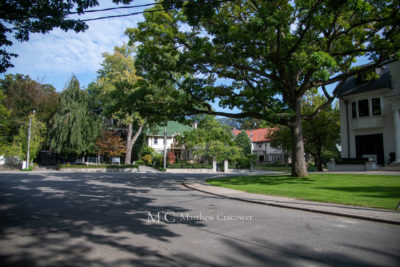 NOTABLE BUILDINGS
Francis Cayley Home – 5 Drumsnab Road. This is probably the oldest Toronto residence still used as a private home. In 1834, Francis Cayley bought the eastern part of George Playter's farm lot, including the Playter house. He named it for a round hill in the Don Valley that he could see from the house. The hill resembled a sugar loaf, or a drumsnab, in the dialect of England's north country.
Idlewold (Residence of Walter Brown) – 23 Avondale Road. Built in 1857 and added to both in 1911 and again in 1977.
The Geary House – 124 Park Road. Constructed before Canada's nationhood, the property lays claim to being Rosedale's second-oldest surviving house. It was originally built in 1857 as a single-storey Regency-style cottage and gained a second level in 1860. A new wing and kitchen were added in 1875 and, by 1904, it had a veranda and carriage house designed by Frederick H. Herbert, a local architect known for the three-storey addition in 1910 to Osgoode Hall, a landmark building in downtown Toronto. Initially, the Rosedale mansion was called "Caverhill" by past owner George Reginald Geary, after his spouse's maiden name. Later, it was renamed after Geary himself, who was Toronto's mayor from 1910 to 1912. The home received heritage status from the provincial government in 1990.
House – 36 Maple Avenue. Built in 1895.
H. Fudger House – 40 Maple Avenue. Built in 1897.
Mary Davies House – 20 Elm Avenue. Built in 1898.
R. Rundle House – 89 & 89 A Elm Avenue. Built by E. J. Lennox in 1903.
Former Gates to Craigleigh – 160 South Drive. Built by Darling & Pearson.  Built in 1903.
House – 20 McKenzie Avenue. Built in 1908 by Eden Smith.
The Studio Building – 25 Severn Street. The home and working studio of several of the Group of Seven painters, their predecessors, and their artistic descendants, and is of enormous significance in the history of Canadian art.  Construction was completed in 1914. The building was designated a National Historic Site of Canada in 2005.  Located at 25 Severn Street.
Albert Calver House – 45 South Street. Built in 1926.
Rosedale Subway Station – 7 Crescent Road. Built in 1954 by Joh B. Parkin.
NOTABLE STREETS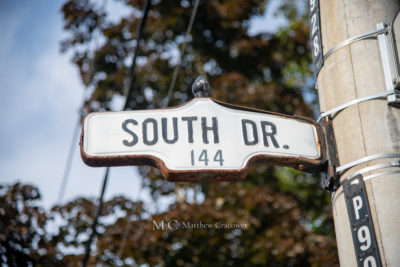 Summerhill Avenue, Highland Avenue, Cluny Street, South Drive, St. Leonard's Avenue, Drumsnab Road, Briar Hill Avenue, Cresecent Road, Beaumont Road, Roxborough Drive
TOP BOUTIQUES
TOP RESTAURANTS
TOP HOTELS
MUSEUMS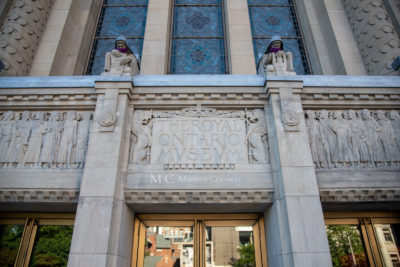 ART GALLERIES
PARKS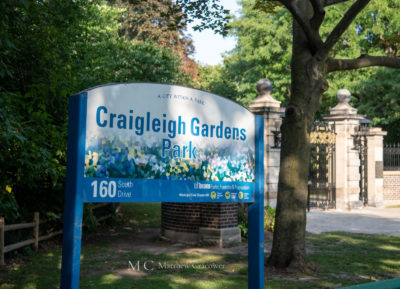 Chorley Park – Park good for children – 245 Douglas Drive
Lawrence Harris Park – Park with open space – 145 Rosedale Valley Drive
Craigleigh Gardens – Large stately park with 3.4 hectares of green space with mature trees and an off-leash dog area – 160 South Drive
Rosedale Ravine Lands Park – Park good for children – 450 Bloor Street East
Park Drive Reservation Lands – Park – 185 Mount Pleasant Road
Ramsden Park – Park with playground, sports and more – 1020 Yonge Street
Severn Creek Park – Large park good for children – 8 Cluny Drive
Nesbitt Park – Park – Small park – 93 Nesbitt Drive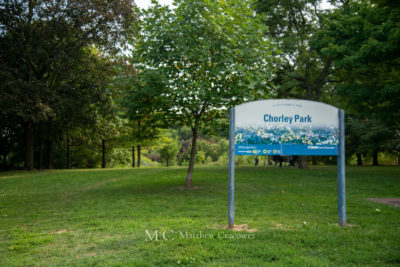 FITNESS AND RECREATION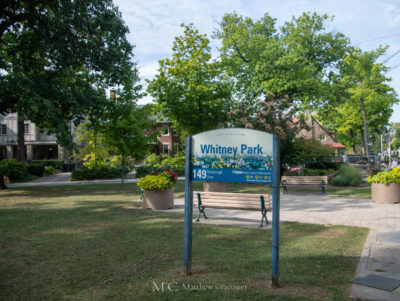 SCHOOLS
JUNIOR/SENIOR
COLLEGES
UNIVERSITIES